Last Sunday we had the pleasure of performing at one of the best live music venues in Minnesota, The Triple Rock. We all got there early thinking we could squeeze in a bit of a sound check before the other bands got there since we weren't headlining and were going on at 8pm anyways.
It was a ton of fun. I completely forgot the words to "Cheap Trixxx" again, and had even forgot that I was singing. The rest of us forgot the hornline to "Shatner" and despite all that, had a great time. We were fully expecting the two drunk dudes who were a little more excited about us playing ska than the rest of the crowd, to throw down. "I can't wait for this to go full on American Gladiator" quipped Bob at the start of "Ruder Than You".
This was also the night that Jen told us she was leaving later for a job interview in Colorado and wouldn't be able to make the next couple of rehearsals. What is she thinking? Who interviews for jobs in this economy? In all seriousness, it reminded us all that soon she'll be gone like the Mastodon when she gets one of those fancy doctor jobs. Which is why we need to take photos. Like now.
Also blowing it out at the Triple Rock was Rocksteady Breakfast. RB reminds me of what I thought I could do when I was 22 years old and in a ska band. I mean wow. Energy. Actually energy is a fairly weak word I could use to describe their set. It was really loud and when I could hear the horns they sounded great.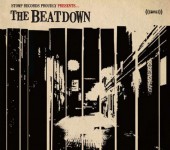 Also headlining the bill was a band out of Montreal called The Beatdown. Great band with a solid backline and interesting melodies. Nice merch spread too. Great to see a ska band travelling and selling merch, just like you're supposed to.